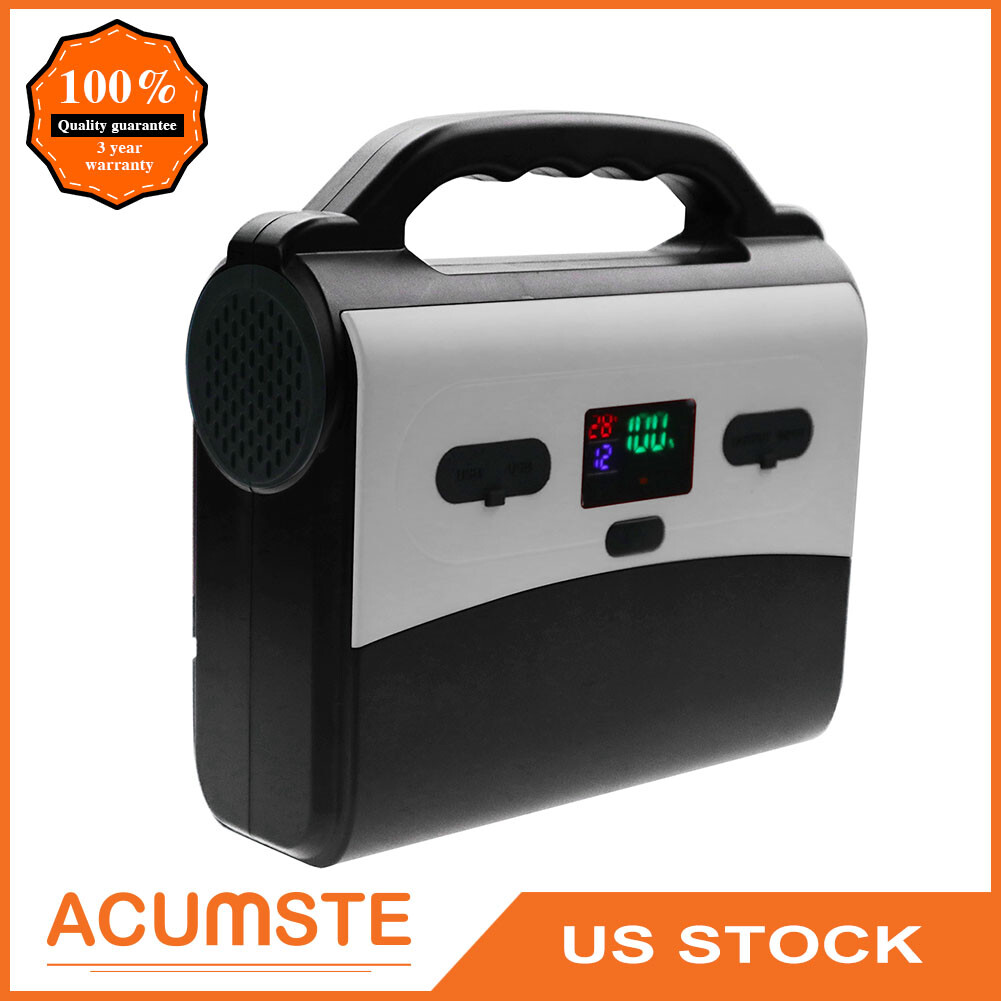 This device apply USB 5V, DC 12V, AC power and Solar Socket to your appliance and portable electronic. Built-in high brightness LED Light for outdoor lighting or emergencies more than 125 hours, with flashing mode. For protecting your using device, it is built in safety lithium battery protection system and auto protection circuit. Before using this unit, please read the user manual carefully and properly keep for reference. Fits: Camping Laptop Phone Tablet Ipad Emergency Lighting bulbs, fans, portable coolers, drill bits Portable generator / outdoor camping station Outdoor measurement / emergency power supply etc. Capacity: 3.7V 60000mAh / 222Wh Dimension: 6.3 * 6.18 * 2.28 inch Weight: 5.59lb Built-in battery cell: 100% High quality lithium battery cells Input Type: Wall Plug / Solar (Not included), Charging time 8~12H Two USB output: 5V 2.4A DC output: DC 12V 4A Two AC output: AC 100V / 110V / 120V AC + / 60HZ AC Continuous Power Output: 200W Peak Power Output: 400W Power indicator: LED indicator light Working temperature: -20℃-60℃ Circle life: >1000 times Accessories 1 x Portable power bank 1 x Home charger 1 x Instruction manual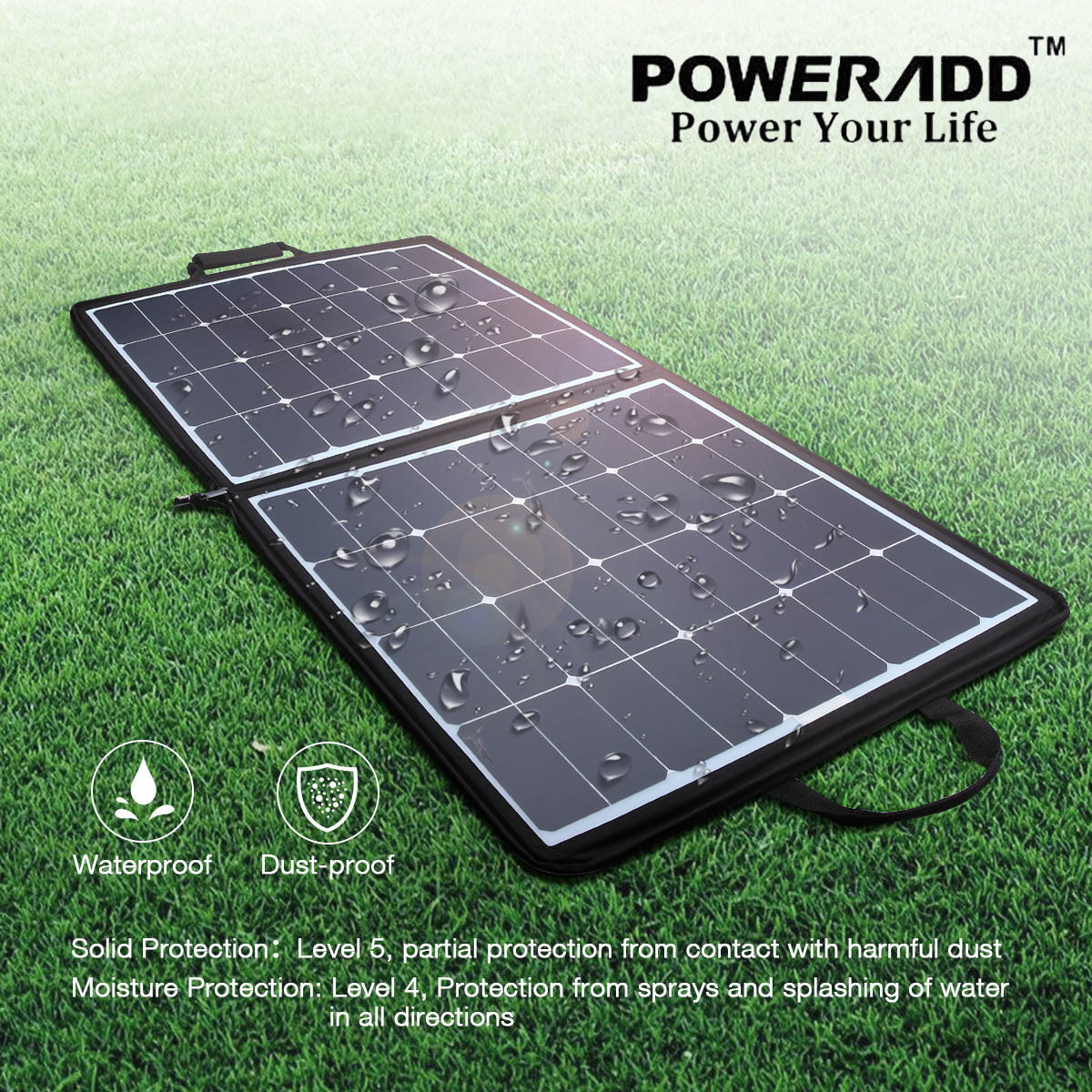 Product Specifications: * Brand: Poweradd™ * Color: Black * Output: USB 5V/2.7A(Max ), DC: 18V/2.1A (Max) * Output Interface: USB female socket * Solar Panel Rated Wattage: 100W * Working Temperature: 10℃~45℃ * Solar Energy Conversion Efficiency: 22%-25% * Material: PET laminated, PVC waterproof fabric * Suitable For: Mobile Phone / Digital camera / MP3 / MP4 / PDA / GPS, iPad, iPod etc * Fording Size:45.67"x23.62" * Unfording Size:23.83"x23.62" Product Features: Poweradd Solar Charger: It can automatically adjust the current and voltage to achieve maximum power,delivering its fastest possible current up to 3.2A under direct sunlight High Efficiency: Built-in SUNPOWER solar cell from US, up to 22%-25% efficiency, while most panels in the market are 15% efficiency. Also Built-in adjustable bracket, more effective to improve the conversion of light energy Dual-Port Output: USB port (5V/2.8A, Max) for charging your 5V powered gadgets, and 18V DC output (18V/3.2A Max) for charging your laptop or other 18V powered devices Safety Guarantee: CE, FCC & RoHS certified design, A grade materials and premium circuitry ensure its best performance and reliability. Built-in safeguards protect against over-current, overcharging and overheating for safe and fast charging. Package Include: 1× 100W Foldable Solar Charger, 1× Car Cigarette Lighter Plug to DC Cable, 10× laptop connectors, 1× DC cable, 1× USB cables, 1× User Manual, 1× Welcome Card.

Solar Controller/Charger/Booster for Laptops and other 5v 2.1A devices - NEW! item.

Have you ever tried charging your Laptop via a Solar Panel? Well NOW! you can! Laptops 19v can be charged by a 60 watt 18v Solar Panel via this Solar Laptop Charger
19v/4.5A(Max output)

Connect your Solar Panel and your Laptop to the Solar Charger for a complete Laptop charge.
Mobile phones can be charged via the 5v/2.1A output
Our light weight tote bag design Solar Panel "LVS60" (not included, sold separately )with the Solar Laptop Charger go hand in hand, keeping the POWER always with you.
10 Laptop various pins to fit your laptop

Authentic CHOETECH SC001 Solar Charger Panel - $51.70
from: FastTech
The Generator Solar Laptop Bag combines a traditional briefcase with high performance solar power to charge laptops (including MacBooks with optional adapter), smartphones, tablets, and other USB devices.

Includes 24,000mAh Universal Laptop Battery
Holds Most 17" Laptops
ANELS - 1 rugged monocrystalline solar panel with 17.6W total peak output at 18V. The panel is waterproof, lightweight, and coated in self-healing urethane to withstand abuse and resist scratches.
BATTERY - The system includes the removable and portable V88 battery pack; a 24,000mAh/88Wh battery backup bank with USB, USB Type-C, and Hi-voltage laptop port.
CHARGING - 6.5 hours in the sun fully charges a typical laptop, 3.5 hours in the sun charges most 10" tablets, and 2 hours in the sun charges most 7" tablets.
COMPATIBILITY - Designed to power and charge laptops, professional cameras, and thousands of devices that charge from USB, including various handheld devices and smartphones, and DSLR camera batteries from manufacturers like Apple, Samsung, Sony, Asus, Acer, HP, Nikon, Canon, Lenovo and many more.
DESIGN - Briefcase is made of lightweight, water and UV resistant fabric manufactured from recycled PET (soda bottles) and has 575 cubic inches of storage, a padded laptop sleeve for up to 17" laptops, a document sleeve, removable shoulder strap, and plenty of other storage pockets.
,,,,,,,
,,,,,,,
,,,,,,,